Han Yonggang, general manager of China Railway No.4 Engineering Group Co., Ltd, has met in Hefei with Tian Qingjie, secretary of Shenqiu County Committee of the Communist Party of China, to boost the friendly ties between CREC4 and Shenqiu of Henan Province.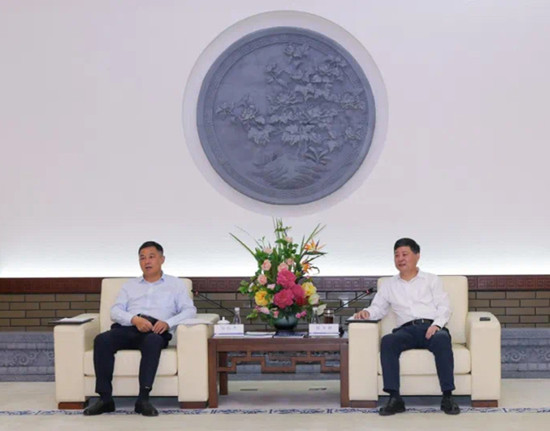 Yang Hui, deputy general manager of CREC4, and Zhang Jun, assistant general-manager of CREC4 and director of CREC4 Investment and Development Department, and leaders from relevant departments of CREC4 headquarters and some CREC4 subsidiaries, also attended the meeting on June 13 at CREC4 headquarters.
While welcoming Tian and his entourage for the trip to CREC4, Han briefed the guests on CREC4's overall development and its achievement. He noted that Shenqiu has some leading advantages due to its convenient transport location, rapid industrial progress, sufficient human resources and superior investment environment. Han added that CREC4 hopes to give full play to its professional advantages in helping build a "Beautiful Garden for a Happy and New Shenqiu," and contribute to the county's economic and social development by participating in its infrastructure construction and urban renovation.
While showing his deep appreciation for CREC4's profound cultural heritage and brilliant achievement, Tian also expressed his thanks to CREC4 for helping to build 20,000-square-meter makeshift hospital in Shenqiu within one month in battling COVID-19. He said he hoped to see more cooperation with CREC4 in the county's development projects such as the Great Outer Ring, High-speed Railway New City, and Iron and Steel New City, so as to usher in a new chapter of joint development.
In another development, Tian Qingjie also paid a visit to CREC4 Materials Industry & Trade Co Ltd's Hefei Branch and Electrical Branch on June 14.
On the same day, Tian also visited CREC4's "Better Home Better Life" Chaohu International Health Club. In 2015, CREC4 officially launched its high-end elderly care brand "Better Home Better Life."